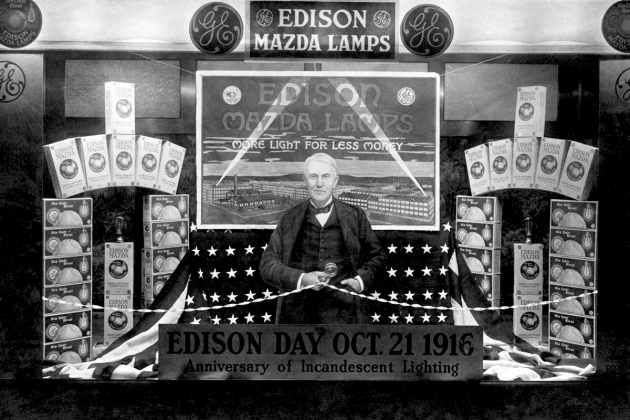 If at first you don't succeed … you're in good company. It turns out that some of the world's most successful inventors, artists, and captains of industry had to rebound from epic failures before they made their millions. NEWSWEEK takes a look at some of the people who put plenty of sweat—and probably a few tears—into ideas that initially failed, and how their efforts eventually paid off.
PHOTO: Thomas Edison poses in front of a display for Edison Day in 1916.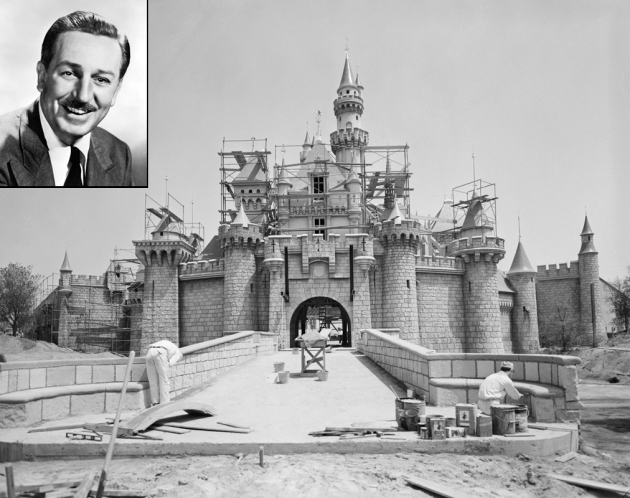 Walt Disney, founder of Disneyland
When he was young, Walt Disney (inset) tried to get a job as a newspaper cartoonist, but he was roundly rejected by the industry, with oneKansas City Star editor reportedly telling him he "lacked imagination and had no good ideas." (Ouch!) Then, a bad business deal resulted in the bankruptcy of his first cartoon studio—one of many such failures. And even his most iconic creation, Mickey Mouse, was initially dismissed by some studio execs because they thought the character "would terrify women." Of course, Disney got his fairy-tale ending when he finally succeeded in building an entertainment empire, complete with Disneyland, "the happiest place on Earth." Above, the famed Disneyland castle under construction.
R.H. Macy, founder of Macy's
R.H. Macy (inset) started four retail stores in a period of 12 years, all of which failed to stay afloat, much less host a Thanksgiving Day parade. Macy finally got his big break when he opened a consumer-goods store in downtown Manhattan. The company eventually expanded to become one of the largest retail chains in the country, with 810 Macy's department storesand furniture galleries in 45 states, the District of Columbia, Guam, and Puerto Rico. Above, a 1942 photo of a Manhattan Macy's building.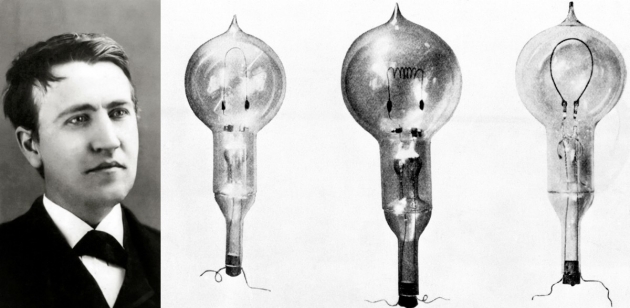 Thomas Edison, creator of the lightbulb
One of Thomas Edison's (above left, with early versions of the lightbulb) most famous quotes pertains to failure. When asked about his hundreds (and, by some accounts, thousands) of attempts to invent a working lightbulb, he once told a reporter, "I have not failed 10,000 times. I have successfully found 10,000 ways that will not work." That wasn't the only time he exhibited his signature perseverance. When he was 67, a fire destroyed the plant where he had spent 10 years and almost all his money working to develop a nickel-alkaline storage battery. With the flames still burning, he gathered his employees and immediately announced plans to rebuild. After making assignments and putting plans in motion, he added, as an afterthought, "Oh, by the way. Anybody know where we can get some money?"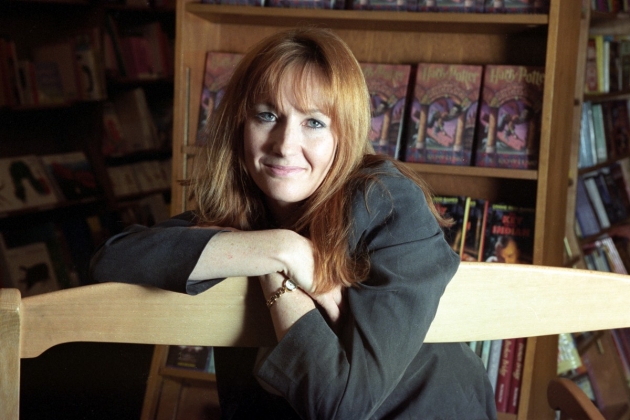 J.K. Rowling, author of the Harry Potter series
When J.K. Rowling (above) first penned the paragraph that would grow into the multibillion-dollar Harry Potter franchise, she was a nearly broke single mother struggling with depression. When she finally completed the first manuscript, it was rejected by 12 publishers before a small London publishing house picked it up. The initial print run was only 1,000 copies, half of which went to libraries. Rowling, of course, went on to sell a few more. According to Biography.com, she is now wealthier than Queen Elizabeth II.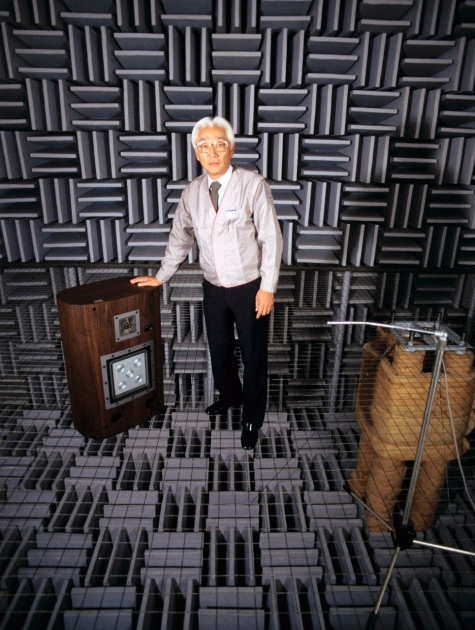 Akio Morita and Masaru Ibuka, co-founders of Sony
The co-founders of Sony first put their engineering know-how into producing anelectric rice cooker to be sold in post-war Japan. Unfortunately, the appliance gained a reputation for overcooking rice and failed to sell to consumers. But don't cry for these two entrepreneurs. They managed to create a few other products that could sell. PlayStation 4, anybody? Above, Akio Morita at the Sony Research Center for the Sound in 2005.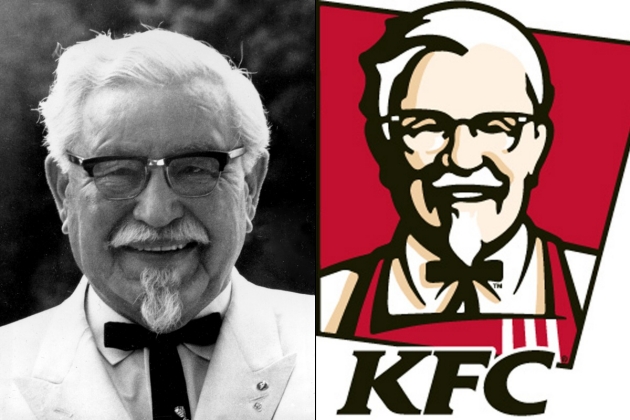 Harland 'Colonel' Sanders, founder of KFC
When Sanders opened his first diner, he was quickly confronted with every restaurateur's worst nightmare: a low-traffic location. The eatery almost closed down when a newly built highway bypassed the site, making it difficult for prospective customers to find it. At 65 years old, he could have called it quits and retired, but instead, he took matters into his own hands, traveling from town to town and cooking his tasty chicken for restaurant owners. Within five years, he had opened 40 franchises this way. Sanders wound up selling his stake in the company for $2 million in 1964, but he remained the company's spokesman until he died in 1980. Above, a 77-year-old Col. Harland Sanders, pictured in 1968 next to the official KFC logo that bears his likeness.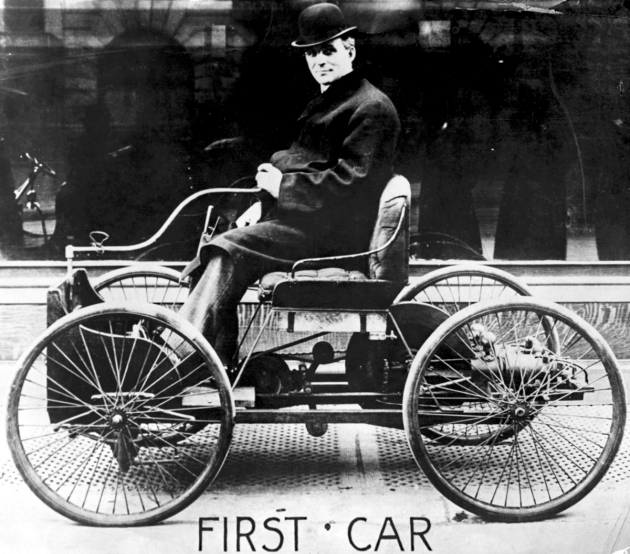 Henry Ford, founder of Ford Motor Co.
Ford's career in automaking got off to a rocky start when his first venture, Detroit Automobile Co., dissolved in 1901 amid customer complaints of high prices and low quality. A year later, he left his second automobile company—the Henry Ford Co.—due to a dispute with a consultant. His third effort almost failed, too, when low sales made it impossible to pay back anxious investors. In the end, angel investors saved the troubled business, which he reincorporated as Ford Motor Co. The company's net income for 2009 was $2.7 billion. Above, Henry Ford sits in his first automobile, the Quadricycle, in 1896.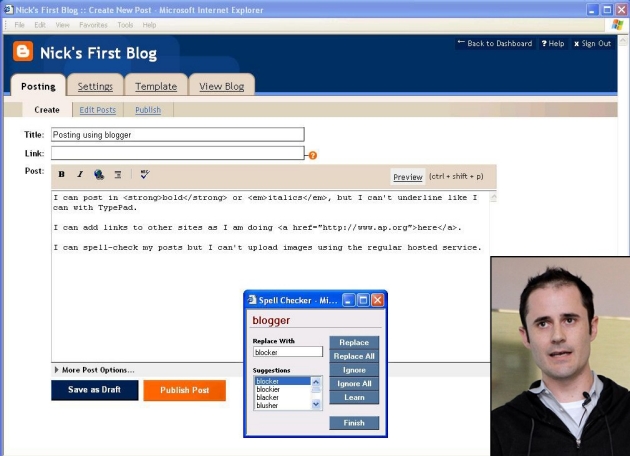 Evan Williams, co-founder of Blogger
When Williams (inset) and his partner, Meg Hourihan, launched the Blogger platform, they effectively transformed the Web, bringing the new medium to the masses (instead of just the Silicon Valley elite). Still, the company's formation couldn't have been timed worse. Just as Blogger started to expand, the dotcom bubble burst and funding started to dry up. With little capital and no viable business plan in sight, Hourihan quit and the rest of the employees were let go. Williams continued to work on the company out of his house for the next year, long enough to entertain an offer from Google. Blogger was sold for an undisclosed amount that made Williams and his partners wealthy enough.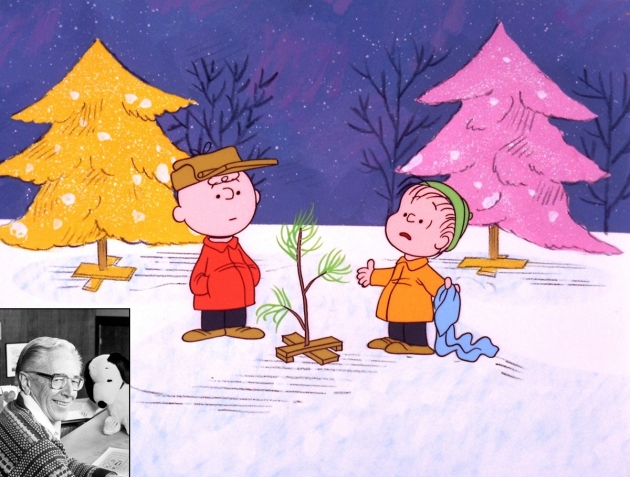 Charles Schulz, creator of the 'Peanuts' comic strip
Charles Schulz (inset) was already an artist by the time he reached high school. Unfortunately, his classmates did not see it that way. All the drawings he contributed to the school yearbook were not included in the publication, and when he applied for a job at Disney, they didn't want him, either. After several rejections, Schulz finally sold his "Li'l Folks" strip to United Feature Syndicate, which renamed it "Peanuts." The strip went on to run for almost 50 years; was syndicated, turned into a cartoon, and made into several products; and won Schulz a slew of awards and praise.